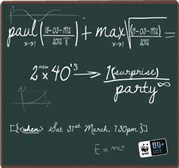 Giuliana Vitiello

Expires
Tuesday, 11 September 2012
Paul and Max's 40's Party Fundraising
Come along on March 31st to celebrate Paul and Max's 40th surprise birthday party.
We will be hosting an Earth Hour Unplugged party trying to make a difference by raising funds for WWF.
The concept is simple: It's about unplugged entertainment (that means no electricity!), celebrating sustainable living and raising much needed funds for WWF.
Instead of giving presents please help WWF conserve some of Australia's most precious threatened species and places by making a secure online donation - click on DONATE NOW (right).
Thanks for your support!
We hope to see you at the party... and remember it's a surprise!!!

WWF- Australia (World Wide Fund for Nature Australia)
WWF's mission is to halt the degradation of our planet's natural resources and preserve our life-support system – the environment. By doing things smarter, we aim to build a future in which humans live in harmony with nature, preserving biodiversity so that we all benefit and enjoy our most precious gift. Our planet. 

Please donate to WWF-Australia and help us to continue our important work.
FUNDOMETER
Target
$400
Raised So Far
$400
Biggest Supporters:
Sam Cuccurullo: $110.00
Giuliana Vitiello: $50.00